Log in below to access course content
Upon completion of the online programme you will be given access to the lecture notes for your face-to-face course.

RFU educational resource
At high exposure elite sporting events, there are often numerous medical personnel in attendance including doctors and paramedics to deliver immediate care if required. But more often at the non-elite events, there are limited personnel with adequate training and equipment to deal with the immediate care of these athletes. The time to the arrival of paramedic crews at such events can be considerable especially in remote, limited access areas, when a time critical life threatening injury or medical condition may present.

There is a well-defined need for doctors, physiotherapists and other professionals looking after athletes and teams to be personally equipped with the skills and the equipment required to enable the delivery of immediate care at the pitch side, race track, poolside, etc. Not only do these professionals need to be prepared on match/event days, but also at training venues and grounds where a significant numbers of injuries or medical problems can occur.
Immediate Care In Sport
INTERACTIVE LEARNING MODULE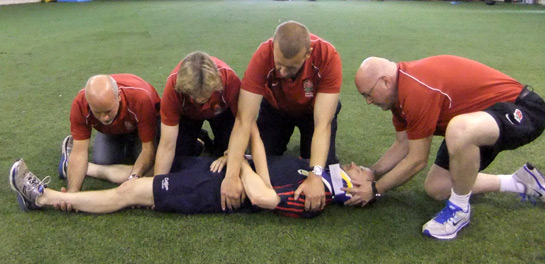 Log in to access content
Then select a chapter from the list on the left